Friday saw little improvement on overall trend momentum in currencies, as risk transfer is still away from stocks. Most individual currencies were on the strong side apart from and strangely enough, the USD which started and ended the day weak despite big selloffs in the Dow. This reflected in our ICS balance which saw the best price momentum in the GBP/USD, however lower volatility kept a lid on overall points. We had both Long and Short Doms in our GBP pairs with decent trades in both directions despite poor ICS Balances.
The EUR/AUD was technically Dom Long with good trades and obviously again, the German Dax was Dom Short on Coronavirus concerns despite very positive German Factory Orders data at 7am and some excellent points available.
We still had a very respectable day with a maximum potential of 1,015 points from specific Max Day Trading time/price level entries from the London morning session alone, with a target of just 30.
A 10% target of this figure would have yielded a minimum of 101 net points from specific Max Day Trading time/price level entries, with many additional opportunities in the US morning (UK afternoon) and US afternoon (UK evening) sessions.
As you can see, most stock indices are now pushing major supports.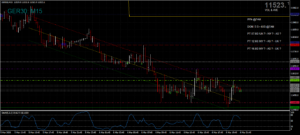 For those who have not joined either our Free Telegram Channel or VIP Channel why not come and see how we do what we do? Go to our homepage to find out full details.