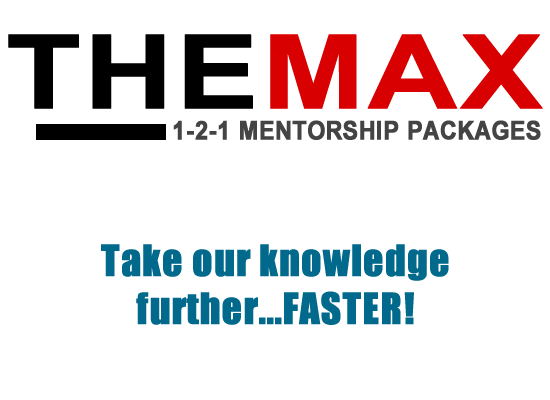 SUPERCHARGE YOUR WAY TO SUCCESS!
We offer three Personal Mentorship Packages with our founder & head trader Ian McArthur, along with all the tools and information to get you off to a great start learning the highly accurate Domino Effect intraday strategy, exclusively and only from Max Day Trading.
All three packages offer more in-depth PDF manuals and come with live coaching with Ian, either via  Telegram, screensharing or even on the good old telephone.
Take your knowledge to greater levels with our clear and easy to understand packages, at prices to suite all.
having been with Max Day Trading on Telegram daily I took advantage of the new mentorship and coaching from Ian.  I have learned so much from the personal lessons and my profits have increased significantly.  Highly recommended.
Graeme
Included In ALL Mentorship Packages
In addition to our free PDF's (Introduction & ICS Balances), all packages include the complete 3 Elements of the Domino Effect trading strategy in one easy-to-read manual to bring you:
The ULTIMATE Trend Predictor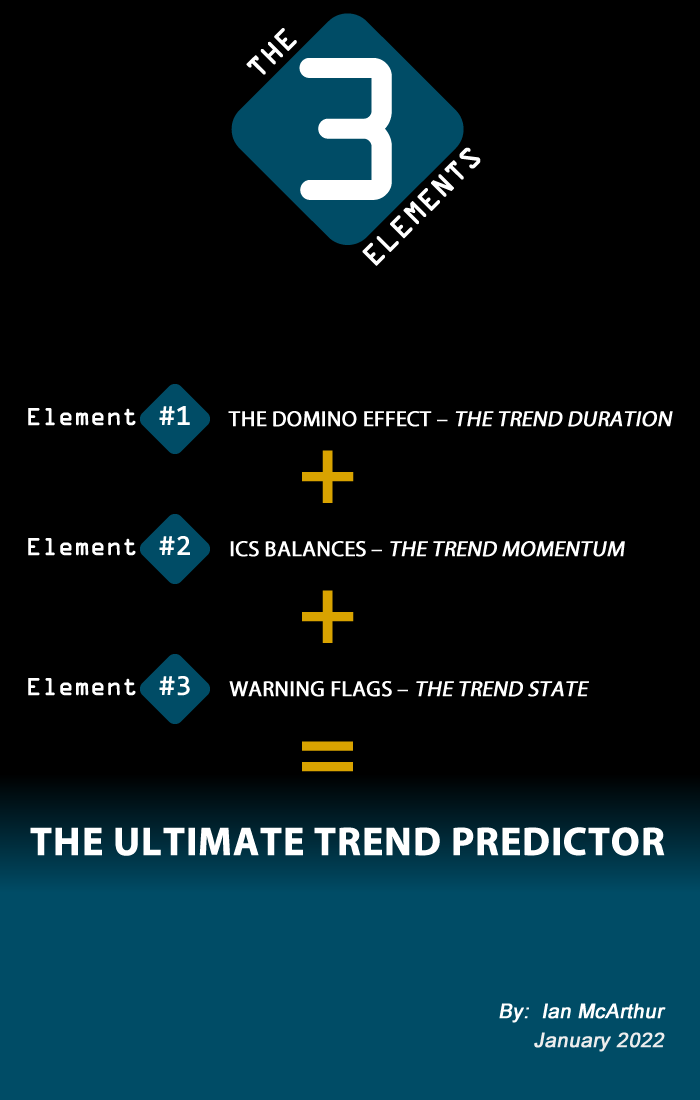 The following sections are a brief introduction to The ULTIMATE Trend Predictor.
Element #1: The Domino Effect
Identifying The Trend Duration  Strength Using Multiple Timeframe Analysis
The most powerful and essential piece of the jigsaw within the Max Day Trading Domino Effect trading system. This totally unique strategy is the foremost and fundamental structure based purely on the king of all movement – price action.
Using multiple timeframe analysis, the process involves quickly matching instruments with a unique sequence of criteria to identify which ones offer the maximum flow within an up or down trend at specific trading times and levels.
No matter whether the trend is long (up) or down (short), there is always a stronger and safer direction to trade in. This makes for reliable, predictable and profitable trading as we NEVER trade against the established intraday/session trend.
The Max Day Trading Domino Effect approach tells you precisely the strongest and safest direction to trade in for each currency pair or stock index it's applied to, as there is nothing more accurate in predicting intraday and intra-session trends and reversals.
OUR 'DOMINO' ANALYSIS PREDICTION FOR THE UK MORNING SESSION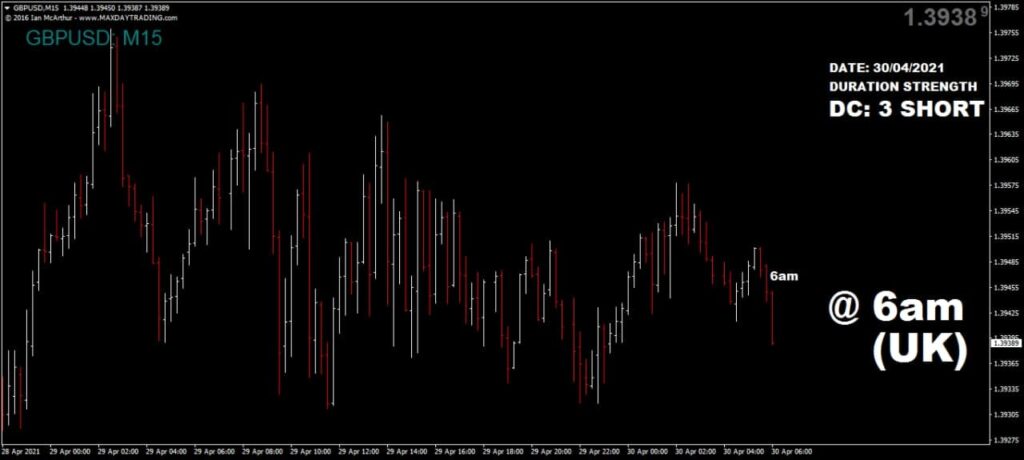 SPECIFIC POTENTIAL POINTS AVAILABLE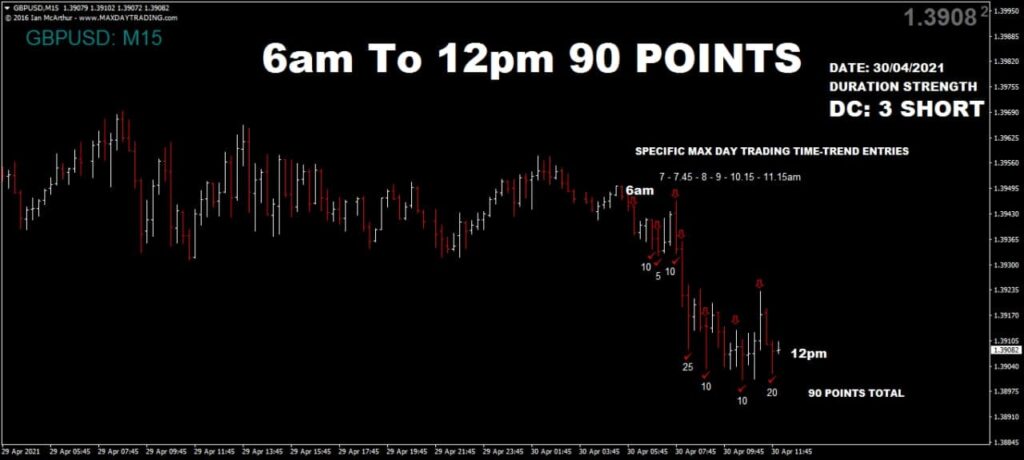 THE REMAINDER OF THE DAY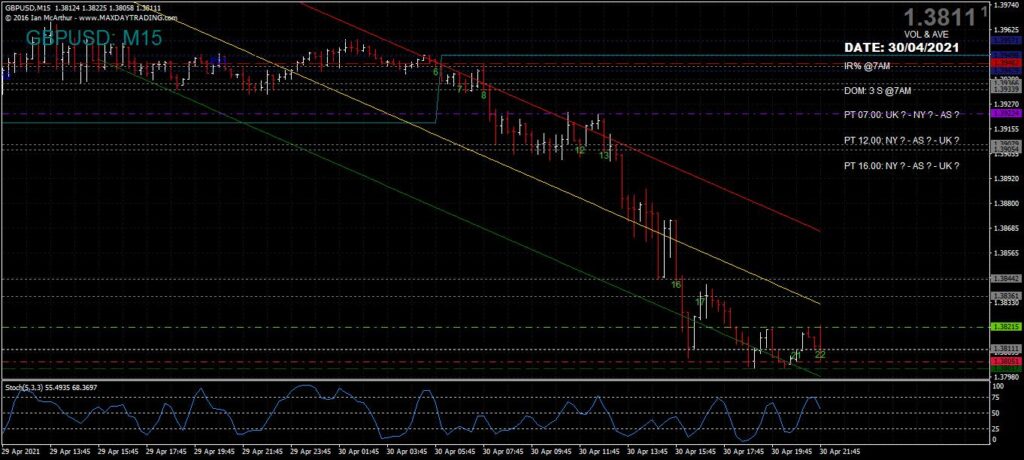 In the above example, there were 90 easily available points in the UK morning session, with many additional points throughout the day. Netting only half this total and trading just £10 per point would give you £450 GBP.
Element #2: ICS Balances
Identifying The Trend Momentum Strength Using Individual Currency Strength Indexes.
The Individual Currency Strength Balance (ICS Balances) is a unique and powerful 'never seen before' strategy that shows you the trend momentum strength within our Domino trend strength ratings to further bolster our technical conclusions. This is done by assessing individual currency strengths within pairs using my unique 'in house' indexes covering all the currencies we trade and are exclusive only to Max Day Trading.
There is absolutely no other strategy that calculates the current individual strengths of each currency within pairs, of which the imbalance is the very thing that causes trends.
The ideal scenario is having a strong currency and a weak currency within a pair, as these cause the strongest momentums to help maximise point gains per trade.
The following example shows a long (up) trend in the GBP/USD pair, with a 'strong' GBP and a 'weak' USD. A short trend would simply be the reverse with a weak GBP and a strong USD.
GBP PRIMARY (FIRST) CURRENCY IN THE GBP/USD PAIR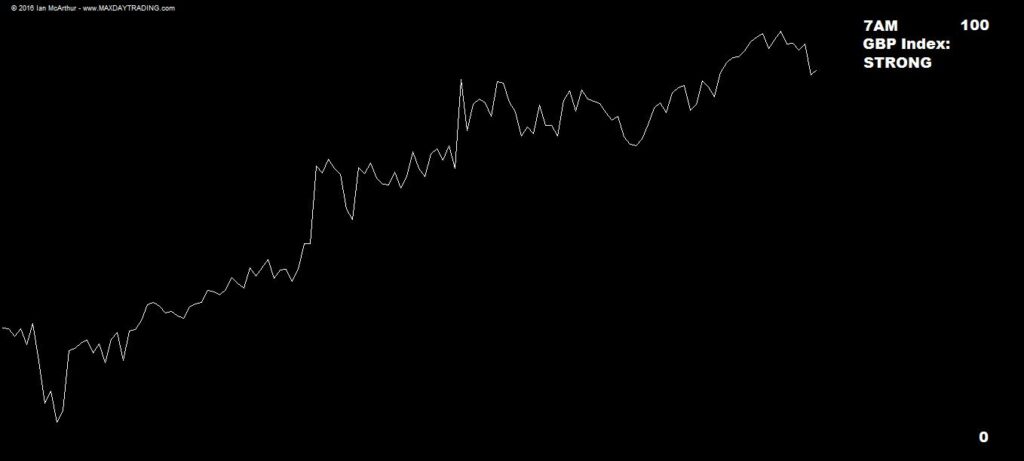 USD SECONDARY CURRENCY IN THE GBP/USD PAIR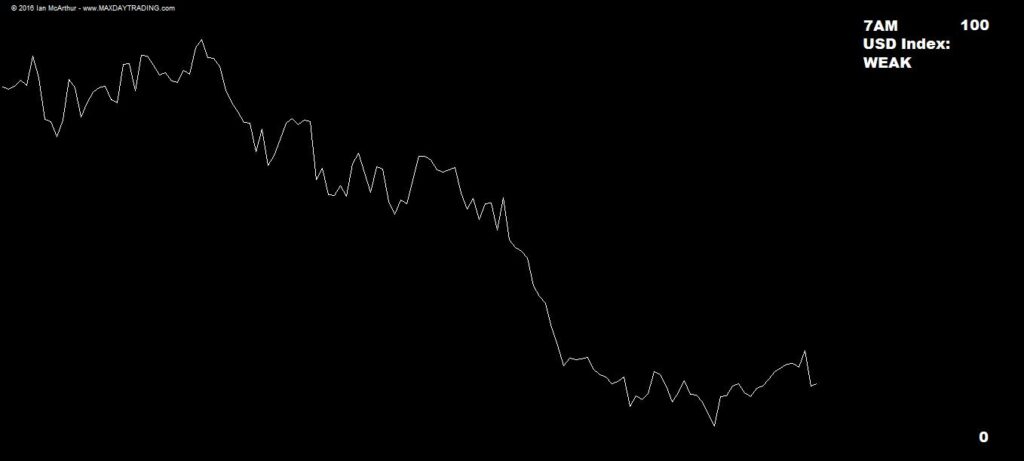 TONE SET FOR THE REST OF THE DAY WITH A STRONG GBP AND A WEAK USD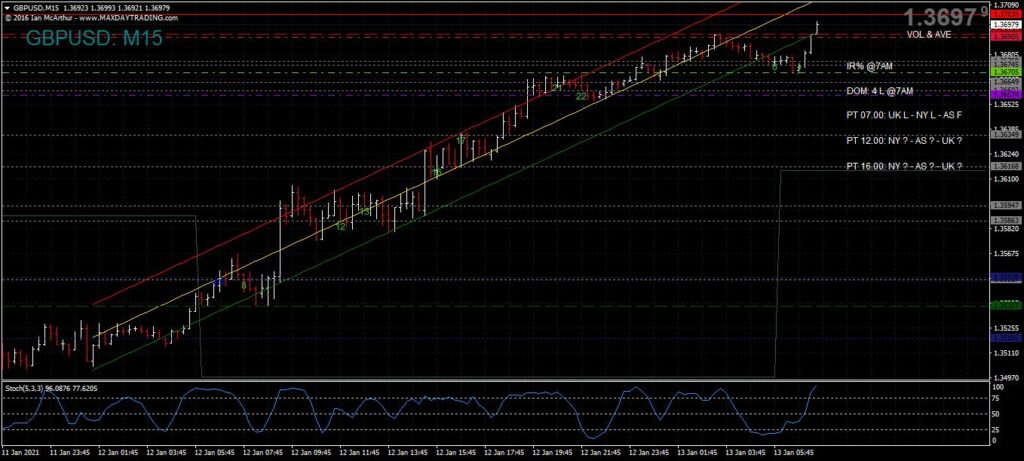 Currency strength indexes for the GBP, JPY, AUD, USD & EUR are posted Monday to Friday before 7am and again before 12pm GMT in our Silver & VIP Telegram groups, starting from just £3.99 per month. See our Introduction PDF for full details.
Element #3: Warning Flags
Identifying The Trend State Through Warning Flags
Under certain circumstances, an apparent strong trend duration can suddenly 'flip' and counter-trend against our Dom conclusions. This is usually only temporary until the circumstances that caused them correct themselves.
Therefore being able to identify these scenarios before we trade gives us warning flags which act as additional filters. Some flags can indicate either caution within an apparent strong long or short trend, while other flags will indicate additional strength.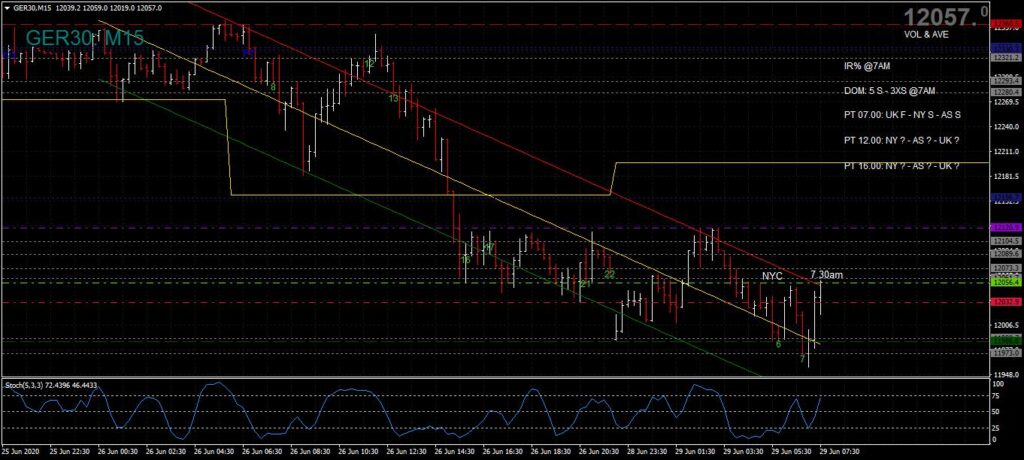 The above example was a red warning flag, notifying us in advance of disruptions at our usual trading times.
UNIQUE AND EXCLUSIVE CHART SOFTWARE
You will also receive our essential Domino Channel indicator, Open & Close Levels indicator (for identifying warning flags), Chart Templates and full installation instructions to duplicate the entire system directly onto your own MT4 platform.
In addition to the strategy and software, we're also including 2 vital sections of the highly acclaimed Max Day Trading business manual;
VIP8: Demo -v- live Trading. The successful transition from demo to live trading is crucial and vital to any future trading success. Here I will teach you the best and most efficient way of progressing from a demo practice account to a real money live account.
VIP9: Identifying Basic Trade Entries & Exits. What better way to get you started than with proven trade entry techniques and realistic profit targets that are used every day by our traders in our VIP Group. This will to help maximise your point gains and income potential.
One-to-One coaching will be conducted over Telegram for chart examples etc. and WhatsApp voice call, no matter where you are in the world!
EXTRA SPECIAL BONUS!
Order today and you'll receive 3 months FREE membership to our SILVER Telegram Group with The MAX Starter course; 6 months membership to our VIP Group with our Intermediate course and 12 months VIP membership with our Advanced course. See below for full details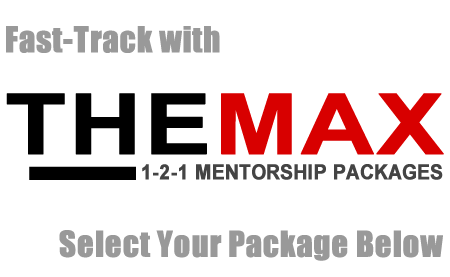 Take Our Knowledge Further... FASTER! With The MAX DAY TRADING BUSINESS MANUAL
When taking our Intermediate or Advanced courses, you'll also receive the FULL and highly comprehensive Max Day Trading Business Manual that fully supports the 3 Elements including; Advanced Trade Entries & Exits, Demo -v- Live Trading, Our Specific Charts, Global Trading Sessions, Preparation, Fundamentals, Risk & Reward, Trading Psychology and much more. An absolute must for the serious trader.
If you would like to discuss these in detail drop us an email with your telephone number and we'll give you a call.
STARTER
A Great Introduction
Includes Elements #1,2 &3:  The ULTIMATE Trend Predictor

1 hour of Personal 1-2-1 Coaching

3 months Membership to our SILVER Trading Room
INTERMEDIATE
Most Popular Package
Includes Elements #1,2 &3:  The ULTIMATE Trend Predictor

8 hours of Personal 1-2-1 Coaching

Our Business & Training PDF Manual

6 months Membership to our Live Daily VIP Trading Room
Includes Elements #1,2 &3:  The ULTIMATE Trend Predictor

24 hours of Personal 1-2-1 Coaching

Includes our FULL Business & Training PDF Manual

12 months Membership to our Live Daily VIP Trading Room
Take the plunge to financial success with Max Day Trading.  Your Future Is Here!
CONTACT US!

Professional Trading Tools & Education For New And Existing Traders.  Live Trading Room 5 Days Every Week.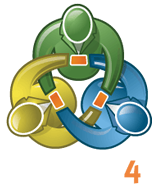 Risk Disclaimer for Forex Trading
Trading foreign exchange on margin carries a high level of risk, and may not be suitable for all investors. Past performance is not indicative of future results. The high degree of leverage can work against you as well as for you. Before deciding to invest in foreign exchange you should carefully consider your investment objectives, level of experience, and risk appetite. The possibility exists that you could sustain a loss of some or all of your initial investment and therefore you should not invest money that you cannot afford to lose. You should be aware of all the risks associated with foreign exchange trading, and seek advice from an independent financial advisor if you have any doubts.